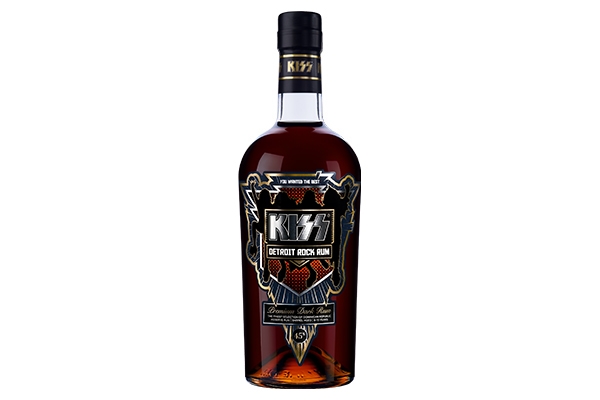 17 Nov 2020
New KISS Detroit Rock Rum joins the KISS Rum Kollection portfolio now available in Sweden
Legendary rock icons KISS make waves on the drinks market with KISS Rum Kollection – a new portfolio including the KISS Black Diamond Premium Dark Rum and KISS Detroit Rock Premium Dark Rum.
For a band who's produced classic albums since the early '70s, defining the musical tastes of generations of fans all over the world; what better way to celebrate their catalogue than with two premium spirits which pay homage to some of their most legendary moments?
KISS Black Diamond Premium Dark Rum takes its name and character from the rock monolith and closing song on KISS's debut-album released 1974. Immortalized on one of the world's greatest live albums – KISS Alive, Black Diamond was instantly destined to become a classic track, showcasing the song writing skills as well as the immediately identifiable vocals and characteristic chops of KISS. The label draws inspiration from the band's early days, referencing both costumes and their iconic make-up, making it a pure treat for fans who grew up loving KISS and now discovering great rum. KISS Black Diamond Premium Dark Rum is an exceptionally smooth blend of Caribbean cask rums aged up to 15 years.
Taking its name from one of the fans' favourite songs, "Detroit Rock City", KISS Detroit Rock Premium Dark Rum matches the legacy of the song. Blended from a selection of the finest Dominican Republic dark rum casks aged 8 to 15 years, this exceptionally smooth rum holds high quality standards, having won a listing at Swedish monopoly Systembolaget via the blind tasting tender process.
Internationally acclaimed Master Blender for Brands For Fans, Daniel Henriksson, has together with the band created a balanced yet impactful rum that is equally appealing to rum-afficionados as well as discerning KISS fans all around the world.
KISS fans will also appreciate the bottle's artwork, with its many references to KISS legendary double platinum awarded Destroyer album, which opens with Detroit Rock City.
KISS say:
KISS founding member, Paul Stanley, "When Brands For Fans approached us we suggested a KISS Rum Kollection. Our master blended rums now showcase individual distinct and unique nuances making them awesome to stand alone or rock out in a cocktail."
About KISS Black Diamond Premium Dark Rum:
Premium Caribbean dark rum barrel aged up to 15 years, bottled at 40% vol.
Nose: Nuanced aroma with a pronounced oak-character. Distinct tones of dried fruit, butterscotch, arrack, vanilla, orange peel and nuts.
Palate: Layered palate with a restrained sweetness and a marked oak-character. Well defined tones of dried apricot, arrack, vanilla, nuts, dried dates, vanilla fudge, cinnamon and chocolate.
Alc. Vol: 40.0%
Origin: A variety of Caribbean Rums up to 15 years.
Volume: 500 ml
Price: 39.90 EU
About KISS Detroit Rock Rum:
Dominican Republic Reserve Rum barrel aged 8-15 years, bottled at 45% vol.
Nose: Nuanced spice, distinct oak character with tones of arrack, dried figs, sultanas, brown sugar and chocolate.
Palate: Initial restrained sweetness, builds with notes of arrack, dark chocolate, apricot, dried figs, nuts, butterscotch and orange.
Alc. Vol: 45.0%
Origin: A selection of Dominican Republic Reserve Rums barrel aged 8-15 years
Volume: 700 ml
Price: 49.90 EU
Follow KISS Rum Kollection
Facebook: coming soon
Instagram: coming soon
Website: coming soon
About KISS
KISS remains one of the most influential bands in the history of rock and roll after 45 years. KISS has earned more Gold Album Record Awards than any American band in the history of The Recording Industry Association of America's (RIAA) Gold and Platinum certifications with 26 KISS albums and four solo albums released simultaneously—a feat never before achieved by any band. To date, KISS has released 44 albums, with 14 achieving Platinum status and three albums reaching multi-platinum. KISS has sold more than 100 million albums worldwide and their legacy continues to grow their fan base, generation after generation.
KISS continues to build on the momentum recently generated by sold out tour dates, incredible media coverage and consistently phenomenal concert performances on their End of the Road world tour, which is scheduled to continue in 2021. For more information on the band's activities and events, visit www.KissOnline.com.
About Epic Rights
Epic Rights is an industry-leading branding, merchandising and artist's services company representing a diverse roster of iconic music artists such as 21 Savage, KISS, AC/DC, Def Leppard, Katy Perry, Britney Spears, Bob Dylan, the estates of John Lennon, David Bowie and many more. Epic Rights offers a broad range of services, including retail distribution, tour merchandising, global e-commerce, VIP/fan experiences, and fan engagement opportunities. Epic Rights is headquartered in Santa Monica, California. For more information, visit: www.epicrights.com.
About Brands For Fans
Brands For Fans is a Swedish company in a global market, a leader in marketing and sales of alcohol products produced by and together with artists. Through close collaboration with bands and artists such as Ghost, HammerFall, In Flames, Jonas Åkerlund, Judas Priest, KISS, Motörhead, Rammstein, Scorpions, Slayer and Sweden Rock Festival, attractive products are launched for the fans. Our way of creating successful business for both artists and beverage producers has given us the opportunity to reach both the rock audience and beverage connoisseurs by working creatively with our releases and credible communication.
In business since: 2012. From January 2018 Brands For Fans is a part of UMIDA Group.
Brands: Ghost, HammerFall, In Flames, Jonas Åkerlund, Motörhead, Rammstein, Scorpions, Slayer and Sweden Rock Festival
Business idea: To, via lifestyle products, strengthen the connection between artists and their fans.
For more information contact:
For marketing contact: marketing@brandsforfans.se
For business queries contact: info@brandsforfans.se