Ghost release Juniper Gin – raise questions of pronounciation.

When Swedish rock behemoths Ghost turn their attention to the world of drinks, they do so in classic manner. Juniper Gin, flavoured with cilantro is a highly drinkable gin with fresh, fruity notes. However, barely had the artwork for the new gin been revealed before discussions ran high on the internet: is it a juniper gin, or is it the works of a darker spirit – as in a Lucifer Gin?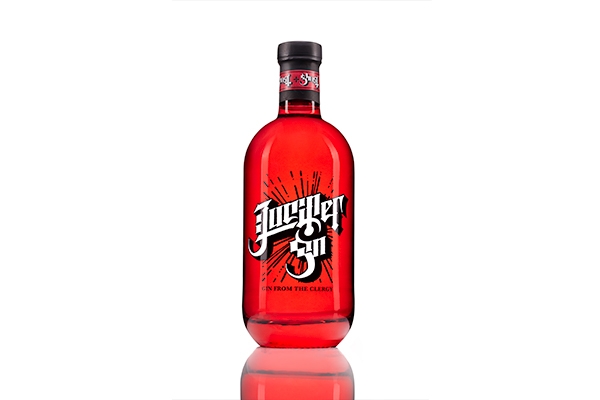 Whichever way one chooses to read the label, the fact remains: Ghost have released a top class gin, impressing connoisseurs and fans alike. The distinct flavours of juniper and cilantro give it a unique character, making it a perfect base for a gin & tonic, or sipped neat, on its own.
Referencing the historic and cultural meaning of blood on the bottle's label, it comes as little surprise using cilantro in the flavouring. Through the ages cilantro has been used as a natural medicament to help balance blood pressure among other things.
Produced in Sweden at Götene Spritfabrik AB, Cardinal Copia enjoyed the thorough process of choosing the right flavours to get the balance between light and darkness perfected.
Sari H Wilholm at Brands For Fans says:
— Ghost have become a worldwide phenomenon and a force of nature, and we're really happy to be continuing our work with the band, and Cardinal Copia. Götene Spritfabrik AB have created a truly amazing gin, and we're thrilled to release the result of this collaboration.
The GHOST Juniper Gin will be released on the 18:th of February
About GHOST
A group of Nameless Ghouls, led by Cardinal Copia, Ghost have reinvigorated the music scene with their theatrical shows and world class song writing. The albums Opus Eponymous, Infestissumam, Meliora and latest release Prequelle have topped charts, been awarded numerous gold discs, winning Grammy awards in the US, as well as mulitiple Swedish Grammis awards.
The band are currently on the "A Pale Tour named Death" world tour, taking the band to the US, Europe and Australia.
Facts GHOST Juniper Gin:
Producer: Götene Vin & Sprit
Distributor: Brands For Fans Sweden AB
Volume: 700 ml
Alc. Vol: 40.0%
Origin: Product of Sweden
A smooth gin with the typical juniper and citrus flavours accompanied by the added, oily texture of cilantro on the palate. Bottled at 40% strength, it has a classic gin character with notes of juniper and citrus. A round, well balanced gin that finishes off with fine cilantro.