(Due to production issues the launch is delayed, for questions email info@brandsforfans.se)
Swedish kings of heavy metal launches a vodka of finest quality.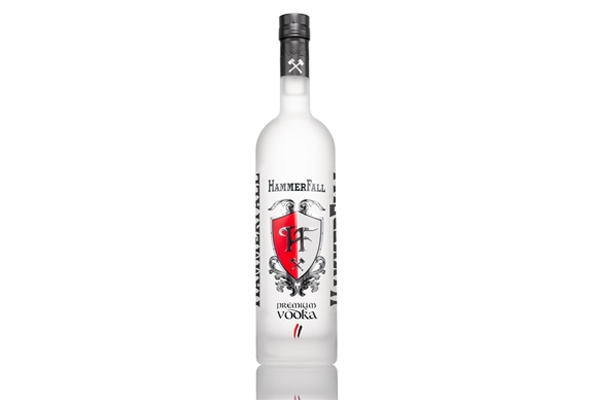 Good is never good enough for HammerFall. When they present HammerFall Premium Vodka we all know it is going to be something out of the ordinary.
For the Swedish kings of heavy metal, it has never been an option to be the second best. It doesn't matter if it's about doing a show, recording a new album – or launching their very first vodka. Singer Joacim Cans proudly describes the magnificent HammerFall premium Vodka as "a breath of fresh air."
– It's got a very clear and smooth taste, but also with a temperament that comes from the pepper. I think a lot of people will be surprised how good it tastes, he says with great enthusiasm.
Guitarist Pontus Norgren is just as excited as his band mate. He is the main vodka lover in the band and he knows how rare it is to find a vodka that leaves you wanting for more. But this time he did. After numerous vodka tastings Norgren and the other members knew that they had nailed it. HammerFalls's Premium Vodka is the kind of drink that don't need to be served cold as ice or together with a soda. Serve it at room temperature and it will still taste amazing.
– Why not drink it together with your favorite food? Or make an amazing pasta a la vodka. This vodka will match the bacon, onions and the tomatoes just perfectly.
Both Norgren and Cans are aware of the risk that fans will buy the bottle and place it on a shelve for everyone to see, instead of drinking it. This is of course understandable, especially considering the beautiful and spectacular design of the bottle. But do yourself a favor and taste this amazing vodka. The only reasonable solution: go out and buy two bottles. One to drink and one for ornament purposes. Because one thing is for sure: it's not every day you get the chance to drink something as good as HammerFall's Premium Vodka.
– Remember: good is not good enough. It has to be great, says Cans.
About HammerFall
The band was formed in Gothenburg in 1993 and already with their debut album Glory to the Brave, released in 1997, they became a big name on the international metal scene. With songs like Hearts on Fire and Last Man Standing, they have become one of the premier suppliers of classic heavy metal. After the debut there have been another nine studio albums, of which Built to Last (2016) is the latest. The band is currently busy recording their 11th record, entitled DOMINION, and scheduled for an August 16th release. The band consists of Joacim Cans, Oscar Dronjak, Pontus Norgren, Fredrik Larsson and David Wallin.
About HammerFall Premium Vodka:
With Hammers held high, the Templars arise setting hearts on fire, turning blood to ice.
HammerFall Premium Vodka has a pure, clear and smooth taste, with traces of citrus and almonds.
This premium vodka can be served as it is or straight on the rocks, as chilled schnapps or why not make a heavy metal drink with lots of ice cubes served in highball glass!
Facts:
Producer: Götene Vin & Sprit
Distributor: Brands For Fans Sweden AB
Volume: 700 ml
Alc. Vol: 40.0%
Origin: Product of Sweden