In Flames Signature Craft Gin No 13, Batch 3: Green Tea & Bergamot is released!
In previous sold out signature gins Batch 1 and Batch 2, In Flames took gin to a new level by joining artistry and artisanal craft distilling. Innovative thinking, limitless creativity and meticulous attention to detail in the choice of spices fascinated both gin-freaks and the band's fans alike, causing both limited batches to sell out almost instantly.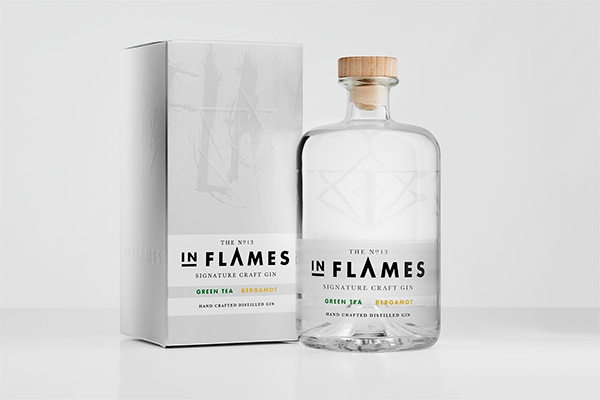 With In Flames Signature Craft Gin No 13, Green Tea & Bergamot, the band continues to explore new paths in the flavour-landscapes of gin. Drawing inspiration from green and black teas (bergamot being the key fragrant in Earl Grey tea), they present a gin that challenges and rewards both the nose and the palate.
This time it's Niclas Engelin, the charismatic, vinyl-collecting guitarist of In Flames, who has taken part in creating the gin. Using inspiration from past releases by Anders and Björn — paired with his desire to express his own flavour of Gin, Niclas is ready to premiere a gin that's his own.
"I have to confess that I'm a complete novice with these things", Engelin laughs. "But it's been an amazing journey to get to learn how the different flavours connect and find new combinations by letting go of old ways of thinking. Now, I hope the fans appreciate Green Tea & Bergamot as much as I've loved to be a part of making it."
Yvonne Wener, business manager at Brands For Fans adds, "It's been really rewarding working with In Flames with their innovative and highly acclaimed gin releases. With Batch 3, Niclas has been taught the craft of tastes and spices and dived into it with tons of enthusiasm. The fact that these bottles are selling out bears witness that this is a gin that's a hit, both with fans of the band and with more demanding drinks connoisseurs."
Once again, we proudly present a limited release of In Flames Signature Craft Gin No 13, Green Tea & Bergamot. Only 2.300 bottles are available starting April 16:th and are anticipated to sell out fast. It retails for 559 SEK and is available via the Swedish monopoly Systembolaget's online ordering.
FACTS:
Article number: 87704-01 (2.300 bottles at Systembolaget in Sweden)
Price: SEK 559
Producer: Götene Vin & Spritfabrik AB
Distributor: Brands For Fans Sweden AB
Alcohol: 40.0%
Origin: Sweden
About In Flames Signature Craft Gin No 13, Green Tea & Bergamot:
The third edition of In Flames Signature Craft Gin No 13, courtesy of Niclas Engelin, holds the same winning concept as its predecessors – with the successful base of distilled gin with juniper, cilantro, lemon peel, cinnamon, cardamom and elderberry flowers. The green tea is a classic, high quality Japanese Sencha (Sencha Satsuma) that has been macerated separately in order to be distilled afterwards. Following that procedure, the gin has been carefully mounted together with master blender, Daniel Henriksson. Combining spices on the nose and clear notes of juniper and green tea, backed by citrus tones from the Bergamot – this unique Gin forms a complex flavour of juniper spiciness, green tea and bergamot. This Signature Craft Gin can definitely stand on its own two feet, but is preferably mixed with a very good, high quality tonic.
About In Flames
Sweden's leading metal band has never stopped evolving during the more than 20 years they've been performing. Their unique melodic death metal and infamous creation of 'The Gothenburg Sound' which placed the band on musical maps Worldwide have since given them the ability to continue to manifest their unique expression over 12 albums. In Flames have toured countless times Worldwide with acts like Avenged Sevenfold, Judas Priest, Metallica and more; have headlined major festivals across the globe such as Sweden Rock, and have been awarded several Grammis, P3 Gold as well as the Swedish government's Export prize. Most recently, they toured arenas throughout Europe and the UK last fall with Americans, Five Finger Death Punch, and are currently curating their own festival, "Borgholm Brinner" (Borgholm is Burning) this July in the Borgholm castle on the island of Öland.