When metal-titans In Flames stepped into the world of gin, success was immediate. Now, In Flames Signature Craft Gin No 13, Batch 2: Elderflower & Cucumber, designed by guitarist Björn Gelotte is released.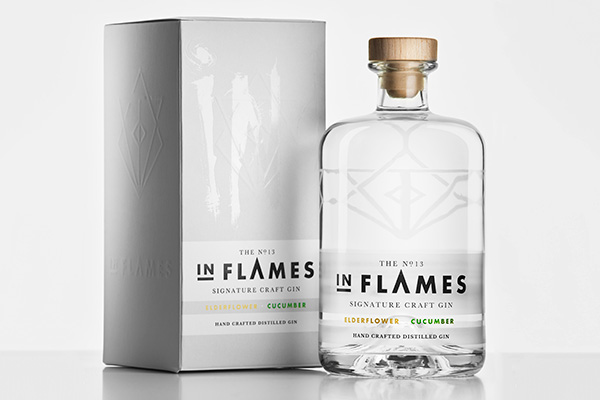 The close connection between In Flames and the world of drinks is well documented by now. In Flames Signature Craft Gin, Batch 1: Pink Pepper & Lime, created by vocalist Anders Fridén, sold out completely within a few days and made people aware of the exceptional quality of Swedish craft gin.
The second batch is released now, this time created by Björn Gelotte together with Patrick Holmqvist from Nils Oscar Brewery. As one of the songwriters in In Flames, Björn is used to working creatively, and crafting combinations of flavours becomes a natural progression of that work. As an entrepreneur, Gelotte has also made his mark in the Gothenburg area with his White Guide-listed and highly acclaimed Restaurant 2112.
"When I started thinking of flavouring my own gin, the first thing that popped up was elderflower" Björn Gelotte explains. "In combination with the gentle, refreshing taste from cucumber, it was a perfect mix. Patrick and I soon arrived at this version that I'm very happy with. Try it with some freshly squeezed lemon, and the flavours will develop perfectly."
Patrick Holmqvist, head brewer at Nils Oscar Brewery says: "Björn knew from the start exactly how his gin ought to taste, and what character is should have, so it was easy to create the gin that would carry his signature. It was an inspiring journey that ended up with In Flames Signature Craft Gin No 13, Batch 2: Elderflower & Cucumber. What else could you expect from one who has a bottle-opener built in to his guitar?"
Sari Wilholm at Brands for Fans: "This gin gives you a big taste-experience! We're confident that those who discovered how great gin can be with the first batch will love this as well. It's as much a gin for the fans as for the connoisseurs."
In Flames Signature Craft Gin No 13, Batch 2: Elderflower & Cucumber is released on November the 13th in a limited edition of 2300 bottles.
It will retail for 559 SEK, available through Systembolaget's ordering assortment in Sweden. Experience shows that you need to be quick on ordering to secure a bottle – they've got a tendency to disappear fast!
FACTS:
Article number: 78323-1 (2.300 bottles at Systembolaget in Sweden)
Price: SEK 559
Producer: The Nils Oscar Company
Distributor: Brands For Fans Sweden AB
Alcohol: 40.0%
Origin: Sweden
About In Flames Signature Craft Gin No 13, Batch 2: Elderflower & Cucumber
Fresh cucumber and elderflower distilled with juniper berries, coriander, lemon peel, cinnamon, cardamom and based on a fine spirit produced from wheat. The result became exactly what Björn was looking for; a fresh gin with notes of cucumber and a nice aroma of juniper berries and elderflower. Enjoy the gin as it is, or with some freshly squeezed lemon. The gin marries excellently with a fine tonic, topped with some thin slices of lemon peel.
About In Flames
Sweden's leading metal band has never stopped evolving during the more than 20 years they've been performing. The melodic death metal that placed the band on the musical maps has turned into a unique expression, manifested in albums like 'A Sense of Purpose', 'Sounds of a Playground Fading', 'Siren Charms' and the latest release 'Battles' recorded in Los Angeles. In Flames tour worldwide, and have been awarded several Grammis, P3 Gold as well as the Swedish governments Export prize. They headlined this year´s Sweden Rock Festival amongst many other major EU rock fests, and will be touring Scandinavia this November and December on a co-headline arena tour with Americans Five Finger Death Punch.