It is impossible to imagine the world of modern music without acknowledging the impact of iconic UK band, Motörhead. Apart from creating their own auditory tsunami of sound,
Motörhead have also made their mark in the world of drinks, with their Premium Dark Rum so far having received four globally recognized spirits award with only four competition entries. In an effort to show the beverage industry that the brand is much more than just a successful band's label on a bottle, the beverage company entered competitions where blind tasting would allow the quality to take centre stage.
To add to their 2019 Gold Medal with 'The Fifty Best' for Aged Rum, the results from 2020 include:
2020 – The Rum Masters, The Spirits Business – UK, Gold Award
2020 – International Review of Spirits, Beverage Testing Institute – USA, Platinum Award
2020 – San Francisco Spirits Competition – USA, Bronze Award
One of the most notable is the Platinum Award at the International Review of Spirits by the Beverage Testing Institue – Motörhead Premium Dark Rum is the top scoring rum of 2020. It is the only product which scored 96 points and comes in at 5th place of ALL 244 rums tested in the awards over the past three years. The band's involvement in their beverage brand over the years has been significant, as it was their dream at last realised. Commenting on the recent awards, drummer Mikkey Dee says: "We work really hard on all our drinks and are ready to take on anyone – that's always been the Motörhead way".
Motörhead Premium Dark Rum is crafted with high quality and taste in mind; a product of the finest selection of Caribbean Reserve Rums, it has been aged for up to eight years in ex-bourbon barrels. The result is a smooth, dark brown rum – full-bodied with notes of chocolate, arrack, vanilla and a spicy finish.
Yvonne Wener, Business Manager at Brands For Fans explains: "While we miss them more than anything, we are thrilled to be able to contribute to the band's legacy with the Motörhead Rum, which we hope the Motörhead fans and friends of rum will enjoy equally."
Originally released in November 2018, Motörhead's rum has already sold over 120,000 bottles globally and is currently available in more than 15 markets worldwide.
Tasting notes: Aromas of dried fruit, vanilla, brown sugar, arrack and dark chocolate. Full-bodied with notes of chocolate, arrack, vanilla, oak and nuts, with a medium and balanced sweet, spicy finish.
Serving suggestion: – Live like lead singer Lemmy and mix a double shot of Motörhead Premium Dark Rum with cola. – Dare to drink on the rocks as a sipping rum
NEW COCKTAIL RECIPES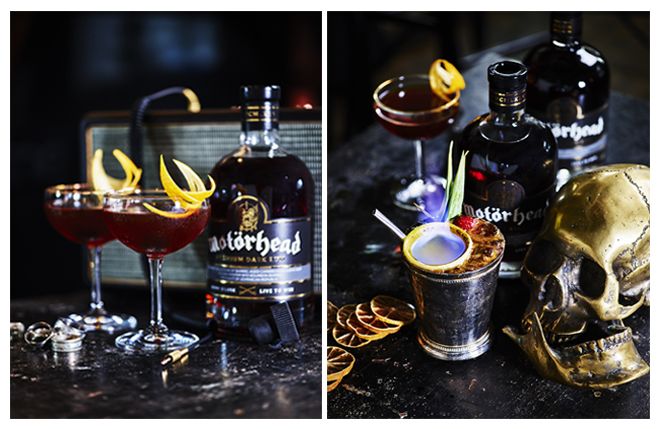 Rum Punch: 50ml Motörhead Premium Dark Rum, 20ml lime, 20ml simple syrup, 50ml passionfruit juice, 3 dashes Angostura Bitters, grated nutmeg. o Shake everything but the nutmeg. Serve in a highball. Use the fruits you have at home as garnish.
Rum Manhattan: 40ml Motörhead Premium Dark Rum, 20ml red vermouth, 1cl Fernet Branca, 2 dashes Peychauds bitters. o Stir everything and serve in a martini glass. Garnish with orange zest and a cherry, a piece of dark chocolate (and a cigar).
Enjoy. Motörhead for Life.